Cricket Plus Academy
Latest News
Cricket Plus Invitation Coaching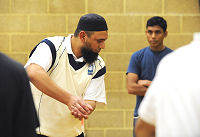 Invite Saqlain Mushtaq, Wasim Akram, Mark Ramprakash & Cricket Plus's other Associate Coaches to your schools, colleges, universities, cricket clubs or even a professional organization to coach your cricket team. You will get the opportunity to experience some high level of coaching from top cricketers from past and present.
Aim:
To coach the final cricket squad per Invitation Coaching Program. Work on all aspect of cricket by implementing various coaching techniques. Observe team's strengths & area of development and preparing them for their current or upcoming cricket season.
Feature:
Coaching from Cricket Plus Head and Associate Coaches.
The Associate Coach will review the session with your team captain & coach. A strategic plan will be discussed with captain & coach to help them prepare for their cricket season.
Brief Lecture from the Associtae Coach to the team that will comprise discussion on mental strength, game plan, leadership, team work etc.
There will be a Question & Answer slot for your team to ask Cricket Plus Associate Coach any cricket related questions.
For further information and to book this program please contact us
or complete our Online Invitation Coaching Enquiry Form