Cricket Plus Latest News
Latest News
Cricket Plus young talent amazes off-spin legend Saqlain Mushtaq!!!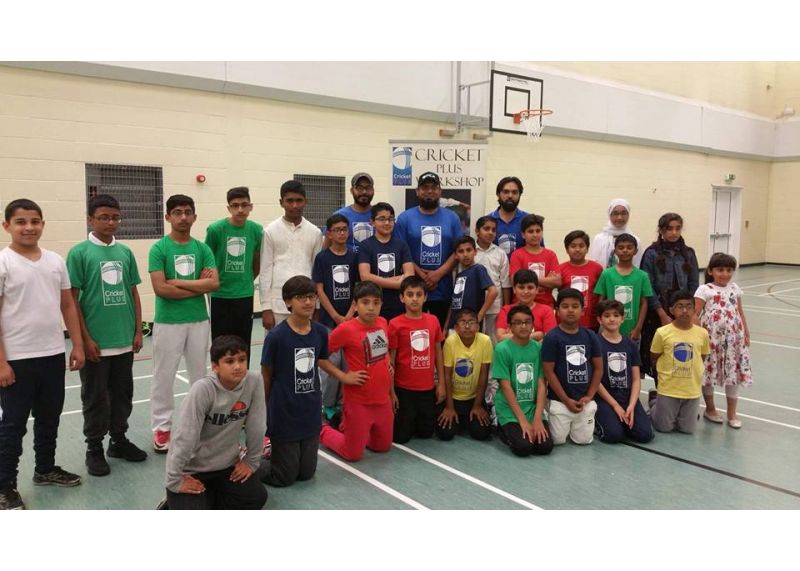 This Summer, on 23rd July 2017, Saqlain Mushtaq the legendary Pakistani off-spinner who is also working with England's national team as a Spin Consultant, visited Cricket Plus Academy to work with the young talent. Saqlain was warmly greeted by the young cricketers and their parents, spoke to them about his cricketing career as to how he worked his way up as a child to make it to the Pakistan's National side.
After the briefing, Cricket Plus young talent were ready to play a match. Saqlain discussed bowling plan with the bowling team while head coach Faisal Khan went through the batting plan with team batting first. From the ball one till the last ball was delivered, some great exciting cricket was played by young Cricket Plus talent. They batted with precision, bowled with skills and fielded with passion and awareness. Saqlain was thoroughly amazed by seeing the talent, the way the youngsters were able to use their own initiative to bat and ball with discipline along with the correct technique. Saqlain said; every young cricketer had his/her own ability and skills to get the job done either as a bowler, batter or as a fielder. I am highly impressed by their cricket. They certainly play their cricket with passion and love and have huge respect for the game of Cricket which is very important.
He further said; I am extremely pleased to see the parents involvement and highly appreciate their efforts as without their support it would be very difficult to flourish the talent/skills of these amazing young cricketers.
After the match, Saqlain further went on to run the bowling and batting drills with the young talent. At the end of the session, Cricket Plus head coach Faisal Khan surprised all young cricketers and their parents when he mentioned that Saqlain Mushtaq would be bowling 3 balls each to all participants. This certainly brought smiles on everyone faces as they all picked their bats and started to get ready to face Salqlain with huge excitement. The smiles extended further whenever Saqlain Mushtaq bowled his "Doosra" delivery.
In the end Saqlain mentioned; I always enjoy working at Cricket Plus Academy. It has been a great journey with Cricket Plus and I am aiming to conduct more Master Classes at Cricket Plus in the future
---
A delightful treat for Cricket Plus young talent!!!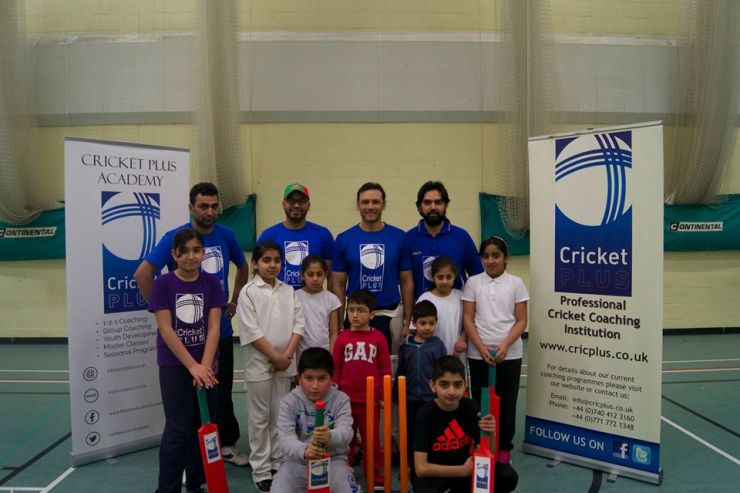 On 27th March, Cricket Plus young talent along with their parents were invited to meet England's batting coach Mark Ramprakash. Mark who had just finished 3hr Master Class session with passion cricketers, was pleased to meet the young cricketers from Cricket Plus Academy.
After having conversation with young talent, Mark was given a challenge by head coach Faisal Khan, asking him to play a "Kwik Cricket" match with the young talent where he can bat with them in pairs as well as face their bowling at the same time. Mark took the challenge happily, kept his gears on and took his stance at the striker's end, ready to face the young bowlers who could not wait to bowl against him.
Everyone got extremely excited especially the parents who could not wait to see their children play a game of cricket with Mark Ramprakash. Initially, Mark had asked Faisal Khan to shorten the length of the pitch so then bowlers can bowl comfortably but when he faced the first paced delivery, he had a big smile on his face and asked Faisal to put back the stumps at the non-strikers end back to its original position. From the first bowl till the last bowl delivered, there was so much energy and excitement there. Bowlers were trying their best to get Mark out while batters who were batting with Mark showed some excellent batting skills by playing some impressive shots all-round. In the end the fielders managed to get Mark Ramprakash run-out twice.
In the end of the session, Mark spoke to young talent as well as their parents. He mentioned; I must say that I am so impressed by your talent, the way you all bowled and batted. I saw some intelligent cricket played by you all and highly impressed by your fielding skills. You all took some amazing catches, stopped balls from going to the boundary and especially the run outs that you young cricketers were involved in was just amazing to witness.
I saw great energy, commitment and passion in you all and I advise you to carry on practicing hard and play the game with the same love and passion. Mark also appreciated parents involvement in supporting their children in order for them to achieve their cricketing goals.
Mark will be coming back to Cricket Plus Academy in the future to conduct more exciting Master Classes.
---
Mark Ramprakash works with passionate cricketers!!!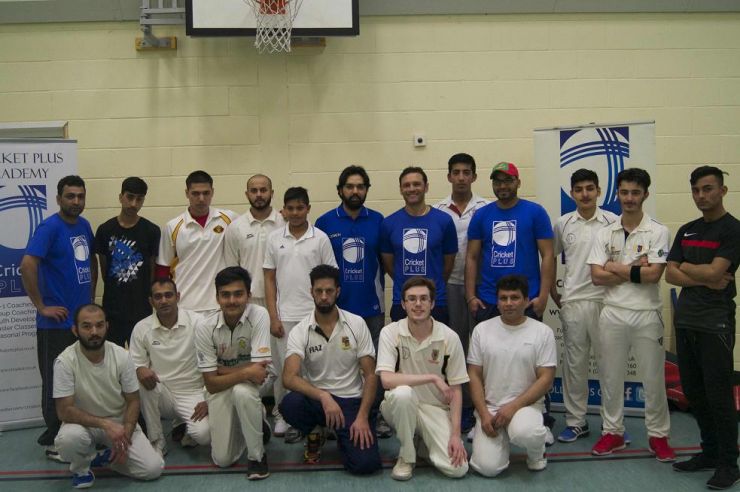 A Magnificent Master Class with Mark Ramprakash at Cricket Plus Academy!!!
England's batting coach, Mark Ramprakash, visited Cricket Plus Academy in Luton on the 27th March 2016.
The passionate cricketers and their parents were eager to see him, and gave him a warm welcome on his arrival at the academy.
In the Master Class, Mark started off with some immensely effective fielding drills through which the participants not only learnt the art of fielding but also managed to warm up and work on their core muscles. After the fielding drills everyone was prepared for some exciting batting drills demonstrated by Mark Ramprakash. The batting drills involved the front foot, off and on side drives followed by practicing hook, pull and cut shots.
Mark along with head coach Faisal Khan and Cricket Plus team, worked with participants in pairs as well as worked on each passionate cricketer's batting technique on 1-2-1 basis. The participants were amazed to see as to how small adjustment in a technique can improvise their ability to play each stroke effectively.
After the batting drills, it was time for batting nets where each batsman faced combination of fast and spin bowlers. During the batting net session, Mark visited each lane and further worked on each batsman's batting technique and approach to the ball. During the batting nets, Mark also assessed bowlers bowling actions and techniques and gave them some invaluable bowling tips.
At the end of the session, Mark spoke to all the participants and answered their cricketing related questions in a Q&A session before he got everyone excited by padding up himself and got ready to face the bowlers. That was one scene to watch where every participant was eager to take Mark Ramprakash's wicket.
At the end of the Master Class, Mark Ramprakash said ; " I am highly impressed by the commitment shown by all the participants. I really enjoyed working with them. They had great energy and enthusiasm and worked very hard. They all have huge passion for cricket and talent for sure". He further said; having talent is one thing but to perform well consistently one must practice hard on a regular basis and always remember and follow the basics of cricket.
Mark will be returning to Cricket Plus Academy again to work with passionate cricketers, so watch this space!
---
Batting Master Class with Mark Ramprakash on 27th March, 2016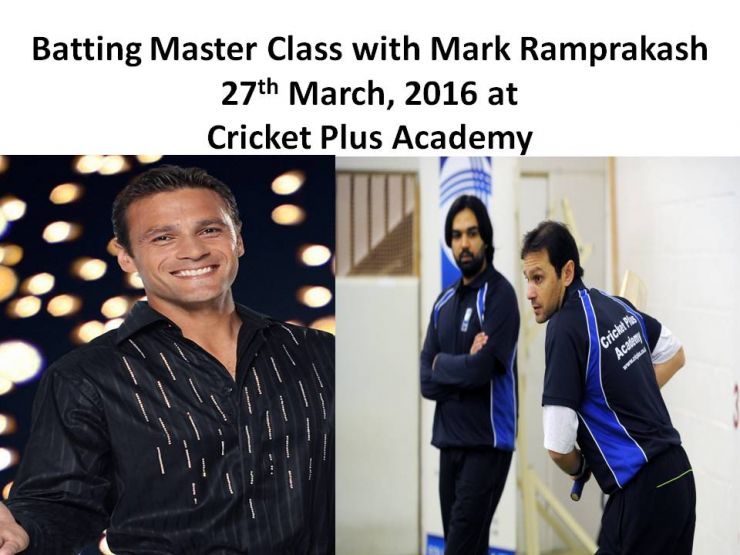 English Team's and Cricket Plus batting coach Mark Ramprakash is to conduct a batting Master Class on 27th March, 2016 at Cricket Plus Academy!!!
The England's ex-test batsman and current batting consultant will be teaching the "Art of Batting" while working passionate cricketers at the Academy.
The Master Class will last for 3:30hrs approx followed by Q&A session where guardians and coaches can join their children/students/players.
So come and join the Master Class and be a part of some exciting cricket coaching.
For further information please email us on info@cricplus.co.uk
---
PAGE 1 OF 1 1