Cricket Plus Latest News
Latest News
The name is "Sir Curtly Ambrose"!!!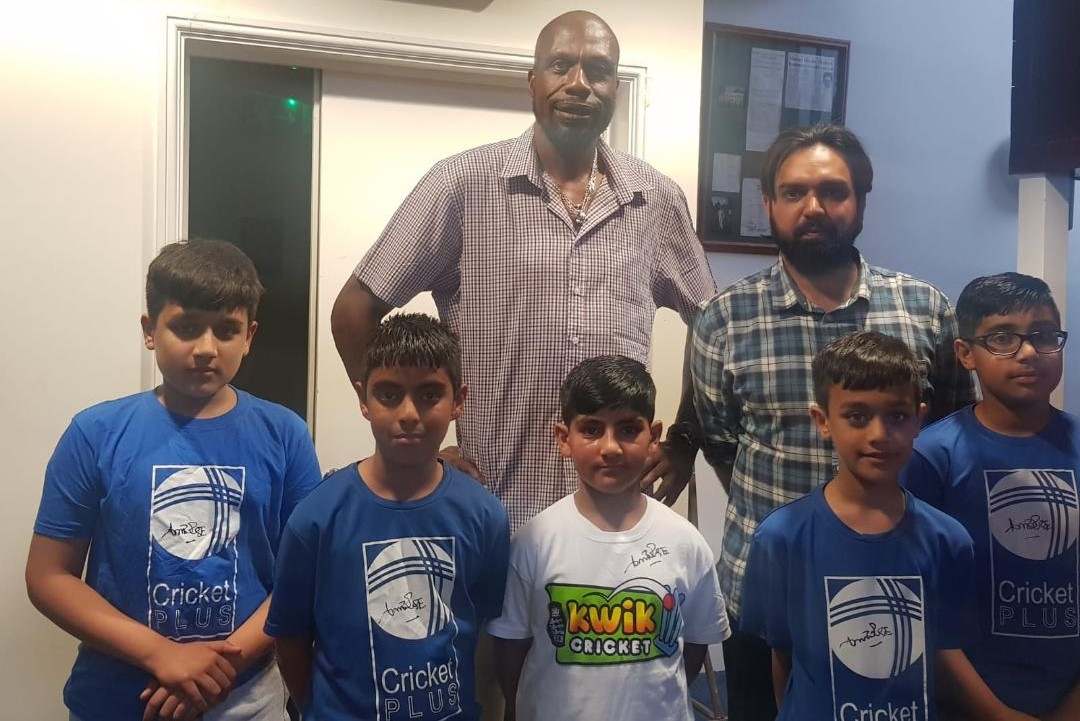 A day spent with West Indian legendary fast bowler Sir Curtly Ambrose!!!
Cricket Plus young passionate cricketers along with their head coach Faisal Khan and their parents visited West Indian legendary fast bowler Curtly Ambrose. Children and their parents were simply amazed and stunned to see the legend greeting them all. During the event, Ambrose spoke to the Cricket Plus talent, had a thorough conversation with Faisal Khan with regards to playing the game of cricket and important aspects of coaching which a coach should have knowldege of.
At the end of the session, Cricket Plus young cricketers asked several questions to Ambrose which would enable them to do well in the future. Faisal Khan, the head coach of Cricket Plus said; it was an amazing day for us all, meeting the legend of cricket. Curlty Ambrose is a very humble guy, gave some great tips, not only to our young cricketers but also passed on some very productive and key pieces of information to me which I am confident would help me to further excel my coaching skills.
Khan further said; since meeting Curtly Ambrose, we have been playing our cricket with great confidence and passion. Ambrose's kind words and praise has certainly motivated us all.
---
A Master Class with Essex County star Anje Lague. A day to remember by all!!!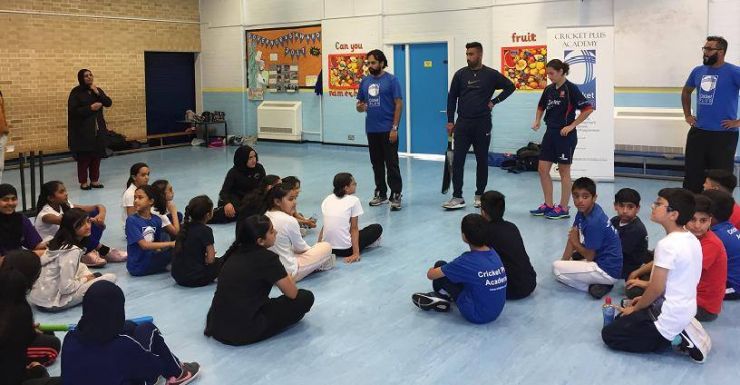 Anje Lague!!! Cricket Plus Academy's first ever woman Cricket Coach
Essex women cricket star Anje Lague became the first lady cricket coach to conduct a Master Class at Cricket Plus Academy. Anje along with Navjot Sidhu, the Youth Development Manager of Radlett Cricket Club, were invited by the head coach Faisal Khan on 13th October, 2018 at Cricket Plus Academy, to train and observe the cricketing skills and abilities of Cricket Plus young talent. The Master Class had over 24 participants, both girls and boys, who eagerly waited for Anje to start off the Master Class. Anje and Navjot received a warm welcome from young passionate cricketers and the Cricket Plus team before Anje got all the young talent to begin the training with some effective warm up activities. After the warm up session, she went on to work on their batting and bowling techniques. In the second half of the session, Anje got the girls to play the game of cricket through which not only her but also Mr Sidhu observed Cricket Plus young talents' techniques and approach to the game. The girls happiness was one thing to witness as they wanted to do perform well in the front of the Essex's star cricketer. After seeing the girls, came the boys' turn. They followed up the same procedure while showing their cricketing abilities to both Anje and Mr Sidhu.
During the entire session, Anje worked with the youngsters quite closely ensuring that they are following the "Basics of Cricket" consistently. She was able to amend the youngsters batting and bowling techniques and encourage them to practice them on a frequent basis. The Master Class ended with Q&A session where the parents and children were given opportunity to ask Anje cricket related questions. At the end of the Master Class, Anje expressed her feeling by saying; I am highly impressed by Cricket Plus young talent, the way the entire session was organised as well as the commitment and passion that the youngsters showed. The girls were amazing and boys were remarkable too. She further said; we hardly see young girls from Asian community, competing in the game of cricket but today I saw large number of girls from Asian background playing some quality cricket along with boys. I believe if the parents show their faith in them, their girls could certainly reach and play cricket at the County level.
Navjot Sidhu also added; I am grateful to the Cricket Plus head coach Faisal Khan for inviting me to see the young talent. Our club (Radlett CC) always looks for young cricketers and I am so pleased to see that now to look for young passionate cricketers in the future, I can always come to Cricket Plus and with the consent of their parents and the Cricket Plus team, I can take on and encourage young cricketers to play for Radlett's competitive teams.
Faisal Khan, the head coach added; we at Cricket Plus have been preparing young passionate cricketers since the formation of the Academy. We always look for well repute cricket clubs all around the UK, to take on our young talent where they can further excel their skills by playing some competitive cricket. I am extremely happy to say that with Anje and Mr Sidhu's appreciation and support, we can certainly enable our young cricketers, once they are ready, to play high standard of cricket. I once again thank both Anje and Navjot Sidhu for visiting our Academy and congratulate Anje Lague for becoming Cricket Plus Academy's first lady cricket coach.
---
Cricket Plus young talent amazes off-spin legend Saqlain Mushtaq!!!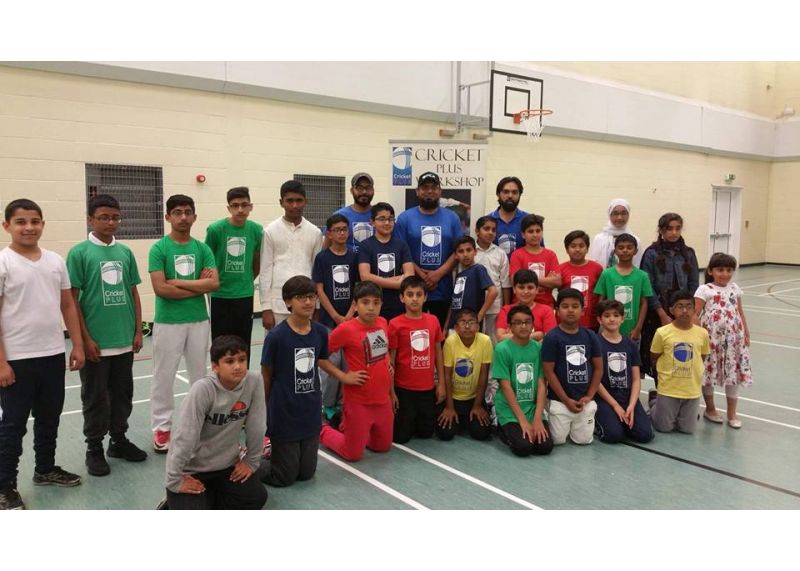 This Summer, on 23rd July 2017, Saqlain Mushtaq the legendary Pakistani off-spinner who is also working with England's national team as a Spin Consultant, visited Cricket Plus Academy to work with the young talent. Saqlain was warmly greeted by the young cricketers and their parents, spoke to them about his cricketing career as to how he worked his way up as a child to make it to the Pakistan's National side.
After the briefing, Cricket Plus young talent were ready to play a match. Saqlain discussed bowling plan with the bowling team while head coach Faisal Khan went through the batting plan with team batting first. From the ball one till the last ball was delivered, some great exciting cricket was played by young Cricket Plus talent. They batted with precision, bowled with skills and fielded with passion and awareness. Saqlain was thoroughly amazed by seeing the talent, the way the youngsters were able to use their own initiative to bat and ball with discipline along with the correct technique. Saqlain said; every young cricketer had his/her own ability and skills to get the job done either as a bowler, batter or as a fielder. I am highly impressed by their cricket. They certainly play their cricket with passion and love and have huge respect for the game of Cricket which is very important.
He further said; I am extremely pleased to see the parents involvement and highly appreciate their efforts as without their support it would be very difficult to flourish the talent/skills of these amazing young cricketers.
After the match, Saqlain further went on to run the bowling and batting drills with the young talent. At the end of the session, Cricket Plus head coach Faisal Khan surprised all young cricketers and their parents when he mentioned that Saqlain Mushtaq would be bowling 3 balls each to all participants. This certainly brought smiles on everyone faces as they all picked their bats and started to get ready to face Salqlain with huge excitement. The smiles extended further whenever Saqlain Mushtaq bowled his "Doosra" delivery.
In the end Saqlain mentioned; I always enjoy working at Cricket Plus Academy. It has been a great journey with Cricket Plus and I am aiming to conduct more Master Classes at Cricket Plus in the future
---
A delightful treat for Cricket Plus young talent!!!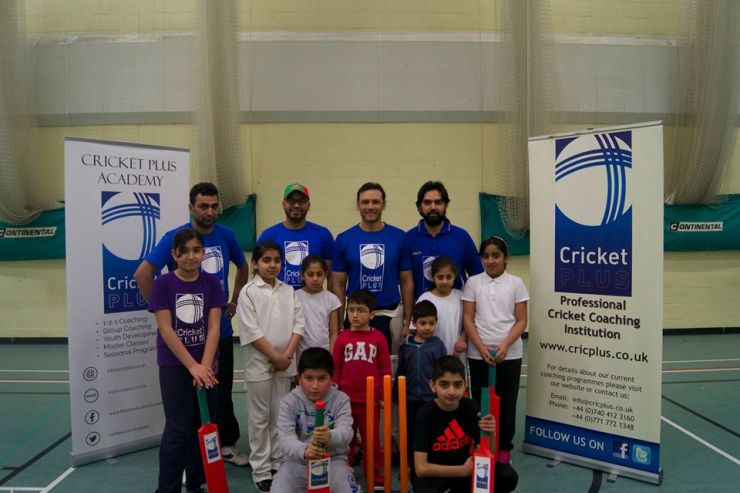 On 27th March, Cricket Plus young talent along with their parents were invited to meet England's batting coach Mark Ramprakash. Mark who had just finished 3hr Master Class session with passion cricketers, was pleased to meet the young cricketers from Cricket Plus Academy.
After having conversation with young talent, Mark was given a challenge by head coach Faisal Khan, asking him to play a "Kwik Cricket" match with the young talent where he can bat with them in pairs as well as face their bowling at the same time. Mark took the challenge happily, kept his gears on and took his stance at the striker's end, ready to face the young bowlers who could not wait to bowl against him.
Everyone got extremely excited especially the parents who could not wait to see their children play a game of cricket with Mark Ramprakash. Initially, Mark had asked Faisal Khan to shorten the length of the pitch so then bowlers can bowl comfortably but when he faced the first paced delivery, he had a big smile on his face and asked Faisal to put back the stumps at the non-strikers end back to its original position. From the first bowl till the last bowl delivered, there was so much energy and excitement there. Bowlers were trying their best to get Mark out while batters who were batting with Mark showed some excellent batting skills by playing some impressive shots all-round. In the end the fielders managed to get Mark Ramprakash run-out twice.
In the end of the session, Mark spoke to young talent as well as their parents. He mentioned; I must say that I am so impressed by your talent, the way you all bowled and batted. I saw some intelligent cricket played by you all and highly impressed by your fielding skills. You all took some amazing catches, stopped balls from going to the boundary and especially the run outs that you young cricketers were involved in was just amazing to witness.
I saw great energy, commitment and passion in you all and I advise you to carry on practicing hard and play the game with the same love and passion. Mark also appreciated parents involvement in supporting their children in order for them to achieve their cricketing goals.
Mark will be coming back to Cricket Plus Academy in the future to conduct more exciting Master Classes.
---
PAGE 1 OF 1 1