Cricket Plus Academy
Latest News
Mark Ramprakash Batting Master Class
Mark Ramprakash, the ex-England and current Surrey star batsman conducted a Batting Master Class at Cricket Plus Academy on the 18th of February, 2012.
The participants and their parents were eager to see him, and gave him a warm welcome on his arrival to the academy where he provided his expertise for two individual Master Class sessions.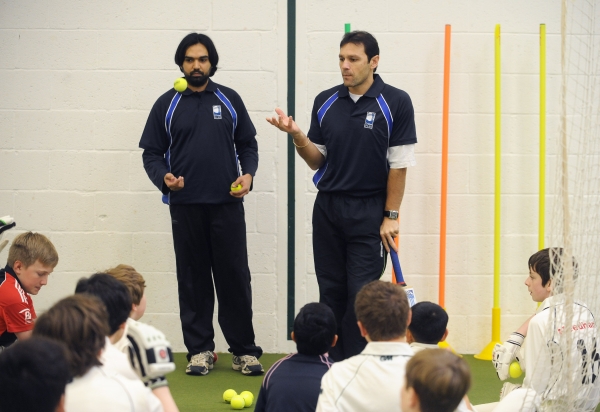 Both morning and afternoon Master Classes were full of education, discipline, involved great passion and fun too. Mark started off each Master Class with a warm up session which was fun to watch. It involved both physical and mental exercises which prepared the young batsmen well to practice the batting drills taught by Mark himself. In the later part of the session, Mark along with Cricket Plus head coach Faisal Khan, developed skills on a 'one on one' basis. He worked on the basics of batting which involved the grip, the stance, head position and foot work. He also showed ways of playing off, front and on drives. He gave some invaluable tips to bowlers as well.
In the end, Mark Ramprakash spent some time with parents and the participants during Q&A session where he had answered their questions.
Mark was highly impressed by the young talent. He liked the passion and dedication that each player had towards their game, and above all praised the parents for supporting them in achieving their cricketing goals.
"Thanks to Cricket Plus Academy. I really enjoyed the day and experience. Top facilities and well organised sessions by Cricket Plus Team. I look forward to teaching more 'Batting Master Classes' at Cricket Plus." - Mark Ramprakash
Mark will be returning to the academy again to provide further training, so watch this space!
To follow more, please visit our Gallery
Mark Ramprakash Views on Batting Master Class